By the end of Ramadhan.... I went to Ocean Park at BSD with my mom, sister, brother in law, cousins and nephew. Just 20 minutes away from my home to this place.
Fountain @ gate entrance
Street to locket entrance
getting closerr...
Ocean Park in Bsd area is a water park, instrument that many developed recently. Some people, especially children love to play here the water and your desire will be fulfilled. Not only swim, but you and your child can try a variety of existing ponds here. Each pond has its own uniqueness, so you are not bored and can get a different experience.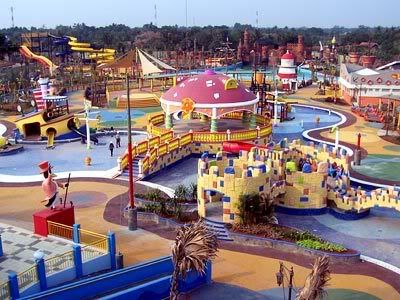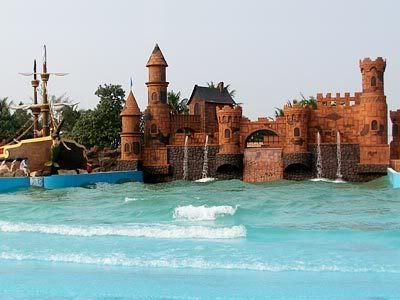 The atmosphere you want to appear in this vehicle is an area of 8.5 hectares of beach atmosphere. For example in the Pacific Wave is a pirate ship. This area is often known as a wave pool, because every one hour, will come the waves for 15 minutes. This artificial waves can reach 1.5 meters that will make you feel at the beach or at sea. Because only comes every hour, so when I heard sirens, indicating that the waves would come, many visitors rushed to the area. Of course, this vehicle is safe enough especially since you are equipped with a float.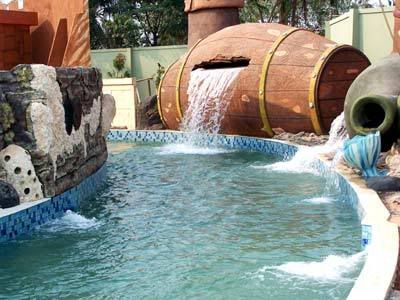 If you have been feeling tired, try to visit the Caribbean ride River, which flows around the pool this place. Here, you do not need to swim. Simply sit on your vest or by using it, you can see the whole area of Ocean Park. Appropriate arena for people who already feel tired.




Like most other water parks, the Ocean Park also features a spiral to glide or slide. Vehicle was called n Fun Slide. This spiral has a height of 15 meters by 96 meters long reach. Of interest to try this ride.

In addition, there is also a vehicle for other slide Slide named as Racer. The shape of this vehicle to roll straight and quite steep, so you can glide at high speed. Consists of 4 lanes so interesting enough to match racing and sliding down into the pond.

You also can make yourself relax with a massage to feel hard artificial waterfall in the vehicle Lagoon The Bahamas. This massage will make you re-fit after many rides tired to enjoy in the area of Ocean Park BSD.


You also can enjoy water play fun with family. Splash Town in the vehicle, you can jolly joking with family and playing water and berbasah-basahan. Of course this place interesting to share with the whole family including your children are young.


Ocean Park BSD can be one of your family tourist destination during the holidays or at weekends. Water play facilities complete enough and complete supporting facilities which are available to ensure the safety of you and your family enjoy the ride in here. You can also enjoy fine dining in the area that has been provided. This water park has a maximum capacity of up to 12,000 people that is wide enough to accommodate the many tourists who want to enjoy a family vacation.

Ocean Park location is located in the region BSD BSD City, namely in the area of Serpong, Tangerang. You can go to this place over the highway, both the highway Bintaro to BSD if you want to pass the South Jakarta district. Or you can pass the toll road Tomang to Tangerang, and exit at the toll booth BSD, if you passed through the area of West Jakarta.
After those... we felt so hungry after swim for all day long...fortunately near from here (just 30 meters) there's D'cost seafood resto... i heard that the price at d'cost is really cheap than others seafood restaurants. How about the taste? I think the taste of seafood are yummy! yeah...with good services by waiters and waitrees... i think i recommend to all of you to come there! mmm.... don't forget one thing... d'cost open from 11 a.m to 2 p.m then 6 p.m to 9 p.m ...soo don't come when it's closed yaaaa... (coz it's my experience hahaha)